Any new resident with a valid license from another state must obtain a Nebraska license within 30 days.
All new applicants (first time Nebraska applicant or applicant's presenting valid out of state documents) are required to provide proof of citizenship one time.  Once proof of citizenship has been presented, proof will not be required on subsequent visits to the driver licensing offices. Refer to

  Document Verification Requirements document for more information.  Real ID compliant documents may be used to waive tests, but are not acceptable for proof of identification. 
New residents to Nebraska will be required to provide:
Proof of U.S. Citizenship or Lawful Status, containing Name and Date of Birth, and Identity.  In the event of a name change, you must present document(s) (certified marriage license(s), certified divorce decree(s) or a court order) linking your previous name to the name that you wish to use on your permit, driver's license or State ID Card.  Lawful status applicants may use a petition of Name Change.

Principal Address in Nebraska (at least two documents are required).

Applicants must disclose their valid social security number which can be verified through the Social Security Administration or show proof of exemption from the requirement by presenting a valid, unexpired Record of Arrival and Departure in a valid foreign passport (I-94 or I-94A).
Bring all required documentation to a driver's licensing location to obtain your new Nebraska document.
What is the real ID indicator?
The gold star or star outlined in gold is the indicator.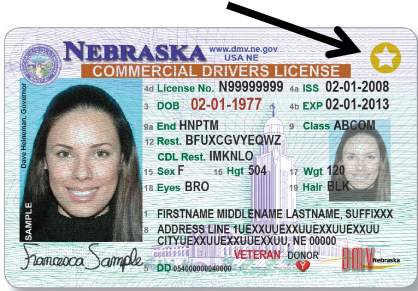 New residents 18 or older
Surrendering a valid out of state license: vision test required, drive test administered at discretion of driver licensing staff. If unable to surrender the out of state license, the written and drive tests will be required. If you present an expired driver's license that is less than one year expired, the drive test may be waived. 
Note for New Residents turning 21: If you obtain your Nebraska license prior to your 21st birthday, the Nebraska document will expire on your 21st birthday. You can then renew this document 10 days prior to your 21st birthday.
New residents under age 18
You must meet all Provisional Operator's Permit (POP) requirements and obtain a POP.