These plates are available to individuals who are not residents of the State of Nebraska, but have purchased a vehicle in Nebraska. They are issued solely for the purpose of moving the vehicle back to the purchaser's home state and cannot be used to pull or transport a load.
The plates are obtained from the County Treasurer in the county where the vehicle was purchased and are valid for thirty (30) days from the date of purchase. Plates shall display the validation decal for the month in which the 30th day lands. To determine the appropriate County Treasurer, refer to Motor Vehicle Offices.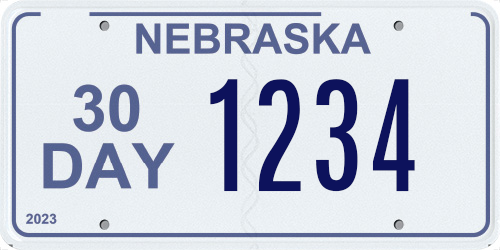 Individuals wishing to obtain 30 Day plates must present a Certificate of Title or Manufacturer's Statement of Origin (MSO), properly assigned in their name and showing their address in their home state. The County Official will issue the plates and a temporary registration showing:
the name of the owner;
a description of the vehicle;
the place in Nebraska where the vehicle was purchased or otherwise acquired;
the place where the vehicle is to be delivered;
the time of delivery (not to exceed thirty (30) days from the purchase date).
The fee for Non-Resident 30 Day plates is $21.70. Please contact the County Treasurer where the plates will be requested to determine acceptable methods of payment.
Question regarding Non-Resident 30 Day Plates may be addressed by email or by phone at (402) 471-3918.