Any new resident with a valid license from another state must obtain a Nebraska license within 30 days.

Proof of identification and address verification is required for all residents obtaining initial Nebraska document. If your out of state driver's license or state ID card does not have the Real ID Indicator, you will be required to bring in additional acceptable identification document(s) to prove your date of birth and the name you are currently using (or multiple documents tying all your previous names together). For additional information review the

Proof of identification and address verification document or the Nebraska Driver's Manuals. Non-Real ID compliant documents may be used to waive tests, but are not acceptable for proof of identification. 
Bring all required documentation to a driver's licensing location to obtain your new Nebraska document.
What is the real ID indicator?
The gold star or star outlined in gold is the indicator.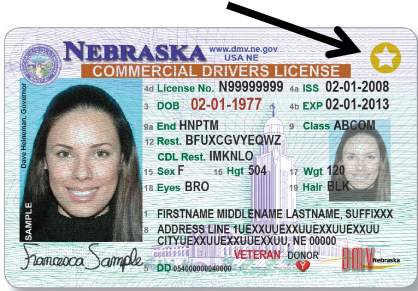 New residents 18 or older
Surrendering a valid out of state license: vision test required, drive test administered at discretion of driver licensing staff. If unable to surrender the out of state license, the written and drive tests will be required. If you present an expired driver's license that is less than one year expired, the drive test may be waived. 
Note for New Residents turning 21: If you obtain your Nebraska license prior to your 21st birthday, the Nebraska document will expire on your 21st birthday. You can then renew this document 10 days prior to your 21st birthday.
New residents under age 18
You must meet all Provisional Operator's Permit (POP) requirements and obtain a POP.